Toyota Prius
The Toyota Prius was named the 2004 Motor Trend car of the year, and with good reason. This vehicle breaks the mold cast from decades of auto making.
From its transmission to its ultra quiet drive, the Prius is truly an innovator and the shape of vehicle engineering to come.
Skip to: Toyota Prius Review | Prius Images | Testimonials | Summary
First, there's the two electric motors that power the car when it's operating at low speeds. While cruising, the high efficiency 4-cylinder engine takes over and when possible, charges the batteries. The Prius employs a combination of both series and parallel hybrid configurations.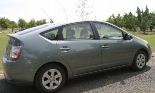 So Pretty
The Toyota Prius is unlike other vehicles not only because of its
hybrid technology
, but also because of its amazing transmission. Unlike most vehicles on the road today, which have either 4 speeds and an automatic transmission or 5 speeds and a manual transmission, the Prius only has 1 speed. At the heart of that brilliant transmission is the Power Split Device (PSD) which regulates how much output (RPM) comes from each of its inputs (gasoline engine and electric motors). By combining different levels of the high torque electric motors with a high efficiency gasoline engine, the Prius is able to emulate all 5 speeds of a manual transmission, with the smooth ride of an automatic.
The Power Split Device eliminates the need for a conventional starter motor. As the electric motors hit a predetermined speed, they force start the gasoline engine.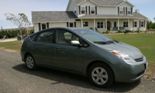 Yet So Efficient
When you drive the 2004 Toyota Prius, you'll notice in your review that it is remarkably quiet. That's because at a stop, the engine actually turns off, so no gas is wasted as it idles. Conventional vehicles lose about 17% of their fuel to engine idle as discussed in our
efficiency obstacles article
.
Toyota made the Prius exceptionally aerodynamic, which contributes to its sleek looks and high fuel efficiency at high speeds. Some people are still not used to this futuristic look, but please decide for yourself and check out our 2004 Prius pictures.
External Toyota Prius 2004 Reviews
Consumer Guide Review of the 2004 Prius:
Toyota's hybrid-power car is redesigned for 2004, growing in size, power, and features. This 4-dr hatchback is 6.9 inches longer in wheelbase, 6.3 inches longer overall, taller, and wider, and 125 lb heavier than the sedan it replaces.
Car Buying Strategies 2004 Prius Review:
If you thought the Prius hybrid car was just a fad, you'd better think again...How did Toyota make the new Prius beefier but at the same time more fuel efficient? The short answer is advanced engineering.
About.com's Review of the Toyota Prius:
This second generation effort corrects flaws in the original Prius and sets a benchmark for other automakers to attempt to reach...The 2004 Toyota Prius easily accommodated a 6-foot, 8-inch friend in its rear seat...This is a practical four-door with a large cargo area under a hatch that could easily satisfy many if not most buyers of family vehicles.
CarsDirect.com's 2004 Prius Review:
America's best hybrid and no, you don't plug it in.
Motor Trend's Prius Review:
We are admirers of brilliant design and engineering. Which is to say, design and engineering that advance the state of the automotive art without forcing users to relearn what they already know about the automobile.
2004 Toyota Prius Review Summary
Class: Mid Size
MSRP: $20,810
Drive Wheels: Front Wheel Drive
Fuel Efficiency: 60 city / 51 highway
Acceleration: 0-60 in 10.5 seconds
Seats: Five
Greenhouse Emissions: 3.5 Tons Annually (very low)