EPA Approves Smart's ForTwo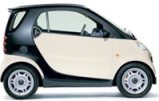 Smart's ForTwo
The United States Environmental Protection Agency has approved a model of the long awaited
Smart
brand, a creation of Mercedes Benz. While Smart cars have been wheeling around Europe since 1998, they have never been made available to the public in the United States.
ZAP, not DaimlerChrysler, will be selling these vehicles until Smart officially enters the US, rumored to be in 2006. At that time, Smart will offer the US market with a small SUV, not the ForTwo pictured above.
The Smart ForTwo reportedly gets 61 mpg on a three cylinder gasoline engine.
Posted on November 27, 2004 | 2 Comments
karisna's review, dated July 15 '05:
Hi, I like your page and information. Please I need more information about this car and any option for sale in Puerto Rico U.S.
Regard,
Karisna
DARIK's review, dated December 7 '05:
SMART CAR IS A GREAT CAR THER IS NOTHING RONG WITH IT TO FIX SOMEBODY JUST WANTS TO MAKE A LOT OF MONEY OF THE SMART CAR --- AND --- ARE IN IT JUST FOR THE MONEY CHRYSLER NEEDS TO TAKE CARE OF THE SMART CAT THER SELF THAY DON'T NEED --- IN ON THIS DEAL... CHRYSLER IS # 1 OUT OF THE BIG 3
Comment on this News Article
Comments on old news stories will be moderated, so you will not see your comment immediately. This is to prevent comment abuse. Thanks for your understanding.